Oracle I is the 52nd level in Chip's Challenge Level Pack 2. It was designed by Dale Bryan, though it was "adapted" from a puzzle in the PC game Jewels of the Oracle. The puzzle this was adapted from involves directing a small beetle through a maze and pushing balls into a hole in a sokobon like fashion. In this level, Chip has to move a bunch of blocks through blue walls, which thankfully are all real to simplify the route quite a bit, to bridge a river of water. In level 141, the sequel, Chip must do so with bombs, a lot more blocks in a tighter environment, and in two specific sections. Therefore, Oracle I is much easier. The only difficult piece of Oracle I is figuring out how to make the seven blocks on the top end to work; move blocks 4, 3, and 1 on the top row R, in that order, which allows Chip to unstack the "towers". The remainder of the route requires no comment, as it could be completed easily.
Walkthrough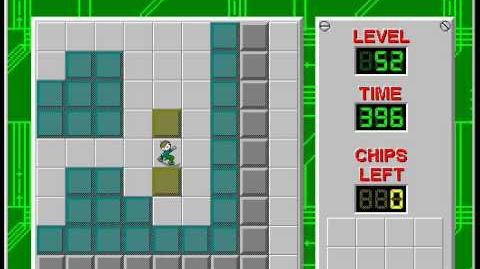 Ad blocker interference detected!
Wikia is a free-to-use site that makes money from advertising. We have a modified experience for viewers using ad blockers

Wikia is not accessible if you've made further modifications. Remove the custom ad blocker rule(s) and the page will load as expected.