Introduction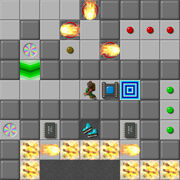 KefrithLP1 is a 12-level set (so far) created by
Kefrith
. It features Kefrith's best efforts at creating challenging and interesting levels. Kefrith maintains a scoreboard for KefrithLP1 at
http://kefrith.meinwald.info/KefrithLP1_Scores.php
, where you can also download the levelset.
Levels in Chronological Order
Think Fast
Too Good To Be True
Lockpick
Count To Eight!
Just Plain Annoying
Only One Right Way
Random Chaos Torture
Tanks For The Memory
Open the Toggle Doors, HAL
The Chip is a Lie
ERROR: Viewing this level requires Chips Challenge Gold!
Alpha Beta Gamma Delta
Ad blocker interference detected!
Wikia is a free-to-use site that makes money from advertising. We have a modified experience for viewers using ad blockers

Wikia is not accessible if you've made further modifications. Remove the custom ad blocker rule(s) and the page will load as expected.