I.C. You is the 41st level in Chip's Challenge 1. Very little effort is required to complete this level; there are eight different paths to eight areas of chips, and eight other paths that lead to nowhere. The block in front of the intersection must thus be pushed from the proper direction in order to get to the chips. Chip starts to the right of the exit, and the station from which the hint is used is to the left.
Slide U, then play through the RDUL, slide UD, and then LULU. Interestingly, three of the eight decoy paths have a blob wandering around in them (one blob uses two of the paths), which may, in a very rare case, block Chip from moving the block in its direction if the player is in even step. Finally, go around with the bugs to collect the 16 remaining chips, and Chip arrives right back in front of the exit.
Walkthrough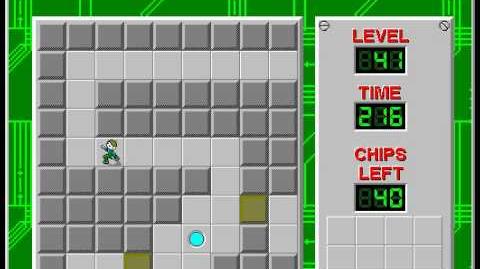 Ad blocker interference detected!
Wikia is a free-to-use site that makes money from advertising. We have a modified experience for viewers using ad blockers

Wikia is not accessible if you've made further modifications. Remove the custom ad blocker rule(s) and the page will load as expected.