Flareon350
Talk

0
698pages on
this wiki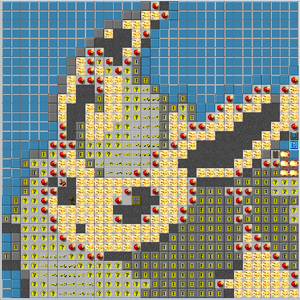 Flareon350 (known as Josh Lee) is a well known Chipster who is notable for being the 2nd person to LP CCLP2 from start to finish in just 3 months, however, his LP was only semi-blind. He is also notable for his strong liking of the Pokemon franchise, as his main avatar is his favorite Pokemon, made in a CC editor. (CCEdit 2.0) Currently he is LPing 3 CC sets; BHLS1, Rock-Beta, and CCLP3. An LP of BigOto Returns, a levelset by Trevor Hedges, has recently been completed. He also plans to start a new LP of ZK1, a levelset made by Zane Kuecks.
CCLP2 LP
On August 28th, 2011, Flareon350 started his first CC LP, being CCLP2 due to it's unpopularity and for the sole fact he has never played the set, but watched many of the AVI solution videos of many of the levels, making this LP semi-blind. After finally finishing the set, Josh expanded his LPing style by putting more effort into editing his videos, as well LPing other sets, mainly custom ones, and registering his version of HyperCam 3.
His final score for CCLP2 after completing it was 5,941,970, however, he improves his score on a regular basis and is currently 6,020,340 (26th place)
Trivia
Josh's favorite CCLP2 level is Oracle II, because of it's complexion. It's also Josh's favorite style sokoban, which involves block arranging. His least favorite level in CCLP2 is Frozen Birdbath for he raged constantly on it. The rage was not shown in public.
Despite completing the set twice, Josh is LPing CCLP3. He has no valid reason for doing so.
Josh has made over 400 levels and are all available on CCZone. He has been known as a "level making factory"
His style of making levels usually consists of being very linear, however, he also makes levels that are usually based off other things such as other video games or real life work.
Josh's worst level in his 400+ is Double Pain, which is level 23 of JoshL2. It was created for it's hidden concept that block pushing is extremely tedious.
Josh usually spends his free time playing Pokemon or chatting on the CCBBC.
Josh's CCLPs are notable for having an enhanced tileset, as well as having different colored backgrounds for each set he plays, with the exception of CCLP2.