Fantasy Island is the 128th level in Chip's Challenge Level Pack 2.
If Chip moves to the north, he will find that he can win this island level easily by blocking the glider clone machine, which will leave only a few gliders in play. However, it's not very difficult to solve even without blocking it off, befitting the simpler nature of Drew Thomas's compositions.
As shown, collect to the left, then zigzag up and down two rows up, move straight across on the next two, and move U 2L ULURUR and fold the rows northwards until Chip reaches the chip near the socket. Wait to take this chip until the end, which will cause most of the gliders to bounce around in the south area, and now collect the remaining chips and swim around to the west end of the island to exit the level.
Walkthrough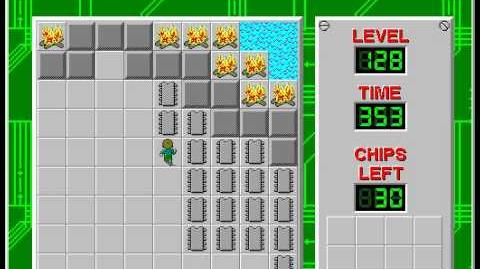 Ad blocker interference detected!
Wikia is a free-to-use site that makes money from advertising. We have a modified experience for viewers using ad blockers

Wikia is not accessible if you've made further modifications. Remove the custom ad blocker rule(s) and the page will load as expected.