Introduction
Chip's Carnival is a 20-level set created by
Kefrith
. It features an amusement park theme.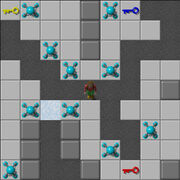 Kefrith maintains a scoreboard for Chip's Carnival at
http://kefrith.meinwald.info/Carnival_Scores.php
, where you can also download the levelset.
Levels in Chronological Order
Intro
Entrance Arch
Merry-Go-Round
Arcade
Roller Coaster
FunHouse
Wave Pool
Haunted House
Turnpike
Bumper Cars
Observation Tower
Skating Rink
Mini-Golf Course
Tilt-A-Whirl
"Petting" Zoo
Racing Coaster
Attack of the Clowns
Bungee Ride
Gift Shop
Parking Lot
Ad blocker interference detected!
Wikia is a free-to-use site that makes money from advertising. We have a modified experience for viewers using ad blockers

Wikia is not accessible if you've made further modifications. Remove the custom ad blocker rule(s) and the page will load as expected.