CELLBLOCKED
Level set
Chip's Challenge 1
Level number
16
Password
SKKK
Hint
MS: Press Ctrl+R (or choose Restart from the Level menu) to restart any level.
Lynx: Press Option 1 to restart an level.
Chips required
0
Chips available
0
Time limit
---
MS
Bold time
971, T-Chip time
Difficulty
*****
Bold difficulty
*****
Bold complexity
*****
Lynx
Bold time
971, T-Chip time
Difficulty
*****
Bold difficulty
*****
Bold complexity
*****

Cellblocked is the 16th level in Chip's Challenge 1. The structure of Cellblocked is a maze constructed entirely of recessed walls, in a 7x7 grid of 3x3 rooms with a gnomon border to the southeast, with seven 3x2 rooms on the south and east side, and the exit in a 2x2 room in the very southeast. This structure is almost completely identical to Colony, except that there the exit is in the southwest and the gnomon is on the south and west sides.
As with Southpole, Chip can not be killed in any way by monsters, tiles, or time, but unlike Southpole, Chip can run into a dead end with no way to escape it, and thus have to start over. However, if restarting is necessary, don't follow the hint; instead, just move to another level and come back. (Clock setting is not required for untimed levels unless Chip is playing them timed.) This preserves all of the level bonus.
The route through Cellblocked, by room, is R 3D RUR 2U R 2U LU 5L DL 4D R 2D 5R URD.
Walkthrough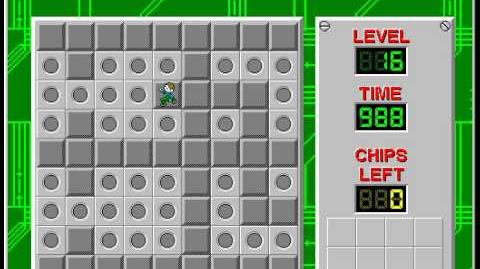 Ad blocker interference detected!
Wikia is a free-to-use site that makes money from advertising. We have a modified experience for viewers using ad blockers

Wikia is not accessible if you've made further modifications. Remove the custom ad blocker rule(s) and the page will load as expected.